"Working as a tour leader is the perfect platform where my dream comes true.

Jamuna Khatri

Tour Leader, Royal Mountain Travels, Nepal
Meet Jamuna Khatri, a Tour Leader in Royal Mountain Travels in Nepal.
Here's her story: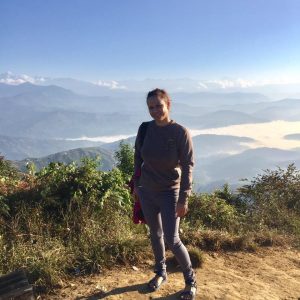 "I love to travel, connect with new people, experience different ethnic cultures, and to eat. That made me want to connect in the tourism industry; when I was a child I always tried find a way to travel. Our society is conservative, and traveling as a solo girl was not allowed by family. This made me change people's mentality. Working as a tour leader is the perfect platform where my dream comes true. I can travel, lead the group, enjoy the nature, can try different food and meet the new people exchanged the knowledge."
Diving Deeper
How long have you worked in the tourism industry? Have you had other jobs before? 
 It's going to be 4 years altogether in the tourism industry. I worked as an administrative officer at Medical clinic.
Tell us a little bit about your friends and family. What do they do? Where do they live? Describe their personalities.
There are 5 members in our family including me:
Mom: she is a housewife who enjoys cooking, taking cares of the house and family. She loves flowers and gardening. She has a happy personality.
Father is retired from the Nepalese army; he's a health conscious person who likes to exercise.
My parents like to travel to new different places of inside Nepal.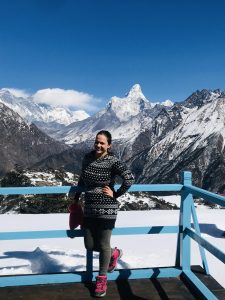 My younger brother in USA is a fun-loving person and loves exercise.
My sister-in-law works as dentist Nurse in Kathmandu. 
We live together at my parents' house.
Most of my friends work in the tourism industry, and live in different parts of Kathmandu Valley. We have the same interest in traveling and exploring different places.
Tell us a little bit about what your country means to you.
Nepal is a beautiful country, with nature and diversity of culture. It is famous for mountains, lakes, conservation, national park historical places and adventures etc. It is a blessing to be born in an amazing country like Nepal. I was born and raised in Kathmandu valley. I am emotionally attached to the surroundings. I have seen the change, how modernization is taking place everywhere. Try my best to keep eco- friendly and sustainable tourism.
What do you think is the best thing that travelers will learn when they visit your country?
Nepalese people are known for simple way of living and be always happy, about culture, varieties of food, nature, happiness, multi-mix religion.
What is your personal favorite place to visit or activity to do in your country?
Nagarkot is one of my favorite places. It is one hour drive from Kathmandu. You can see 8 popular Himalayan Peaks approximately 8000 meters including Mt Everest. Even if the weather is not so clear, you can see the countryside of Nepal.
There are many adventure things you can do in Nepal like paragliding, rafting, bungee, zip flying etc
What is your favorite food and why? Describe it!
Dhal bhat- it is set of food rice, lentil soup, spinach, vegetable curry, pickle, salad, and non-vegetables. 
This is known as the national food of Nepal. Mostly we eat this every day. It feels like you get power after eating it. So sometimes we said in while doing trekking also dal bhat power 24 hours. We are so used to it.
How does your travel organization positively impact local communities, wildlife, and/or the environment?
Sending guests to local villages to stay at local community home stay. It helps the local communities especially women of families. It empowers them to make handicrafts, serving guests by staying at home. People understand the importance of wildlife and protecting the environment and animals.
Travel organizations asking to use less plastic bottles or providing the purifying water system to control the plastic bottles, more priority for women empower. Start to use electric vehicles with ladies drivers. 
What is one piece of advice that you would give travelers about traveling to your country?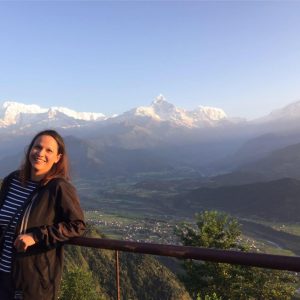 Come to Nepal even if you don't want to do the trek. Nepal is more than just the majestic Mountains; it will not fail to mesmerize you with its diverse culture.
What is the best thing about your country?
Peoples and Nature. We treat guests as a god.
In summary:
I love to work as tour leader because I already mentioned, it feels like my dream comes true. I got my freedom which I was looking from childhood. I can engage with nature, can try different multiple cuisine. In the high season, when people give you positive feedback, understand your hard work; appreciate as a lady leader it feels like healing or meditation. I forget everything the hard time, face during work. It's brought motivation and energy on me.  Wants to work better in future and raise more. Even my parents they appreciate my work.
Even though my profession is tough in nature , I deal with patience and care. Everyone has their own story . Traveling helps in unveiling lots of emotions. Humans have different colors of emotions.  It's a privilege seeing people overcoming their pains or fear. In the end of the trip, people's smile matters. Their appreciation and happiness counts the most. This is what keeps me motivated.