COVID-19 Procedures & Policies
COVID-19 Policies for Off Season Adventures
COVID-19 is still creating a lot of uncertainty. However, with more access to the vaccine and cases decreasing in some places, we are confident there is light at the end of the tunnel, and travel will pick up again soon. Many of our destinations are now open to visitors. Off Season Adventures (OSA) is evaluating travel to these places on a case-by-case basis, depending on each country's current situation. 
We monitor recommendations from the Center for Disease Control, the World Health Organization, and our local partners and authorities. We have also developed some policies and procedures using the guidelines set forth by the Adventure Travel Trade Association.
The below policies and resources are fluid and can change as the situation progresses. We may also have additional procedures taken on the ground. We will do everything we can to mitigate risk to ensure our clients, staff, and local communities we visit are safe. Check this site periodically to see any updates or changes, as well as our social media pages. Please feel free to contact us with any questions or concerns.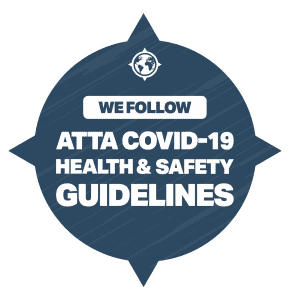 Before you Travel
We will communicate any important information you need throughout the planning process and pre-trip. We always monitor the current situation in our destinations. This is even more important during the COVID-19 pandemic. We follow the guidelines and recommendations set forth by the above organizations when planning trips. We are also communicating with our local partners to get more details about the current situation on the ground. General policies we have implemented include the following. Please note there may be more specific restrictions and policies in place in each destination:
We comply with all travel restrictions and recommendations of the host & origin destinations' governments. We judge the current Covid-19 situation prior to travel. We will reassess the conditions as they change and make the necessary adjustments to itineraries. 

We will inform you of testing procedures for each country before your departure. 

We ask our travelers with symptoms not to travel. We recommend consulting with a primary care provider if you are showing any signs of COVID-19.

We require clients to obtain travel insurance for all of our trips. We recommend checking your policy to understand what it covers regarding COVID-19. 
Local Communities
OSA is committed to the local communities we visit. We assess the impact our travel has on these communities and mitigate adverse risks. Our tour operations bring travelers to small, remote, and vulnerable populations. We respect communities that chose not to welcome visitors during this time. Policies we enact while visiting these communities include:
Requiring social distancing and face-coverings. 

Adjusting itineraries as necessary to avoid larger crowds and gatherings.

We will work in conjunction with our partners to ensure hosts, organizers, staff, and site management who are involved with our experiences to ensure procedures and protocols are being followed.
On Tour
OSA will ensure that we maintain the highest standards for cleanliness, sanitation, and mitigating the risk of transmission while on tour. We communicate with hosts, vendors, hotels, restaurants, and staff to ensure that procedures and protocols are being followed and are in line with OSA's & the local authority's official standards. Some of our policies include:
Face coverings will be required in situations of higher risk of virus transmission; i.e. when in the safari vehicle, in enclosed spaces, and when travelers are close to one another. 

We will provide the necessary PPE, face masks, hand sanitizer, etc. to our guides, staff, and guests. However, we also recommend that you bring your own.

We will use recommended methods for cleaning and sanitizing that have been determined to kill the COVID-19 virus, such as using soap and water, and bleach solutions. We follow the manufacturer's instructions and the recommendations of official health and safety agencies.

The number of people in one vehicle will be limited to provide space between guests. This will be particularly important when there are travelers from different families and households on the same tour. Vehicle windows will be open when possible. Face coverings will be required when in a vehicle for long periods, and windows cannot be open.

Food tours at local markets or food halls will be conducted when it is least likely to be busy. Our preference will be to visit outdoor markets. We will avoid congregating around vendor stands.

When possible, our group will have meals outside. When eating inside, we will space out diners at larger or separate tables, especially if our travelers are from different households. We will work with our partners to ensure that food and beverages are served by trained staff members. 

The restaurants and hotels we visit are vetted to ensure rigorous handwashing and sanitation regimens for staff, chefs, servers, and customers. All food will be cleaned, washed, sanitized, or cooked according to local food safety standards and guidelines.
Resources
For further information consult the following resources:
Adventure Travel Trade Association
United Nations World Tourism Organization
Country-Specific Resources 
For further information on the current status of a specific destination or their entry/testing requirements please consult the Covid-19 pages on the US Embassy websites below: