Tunisia Cultural & Natural Tour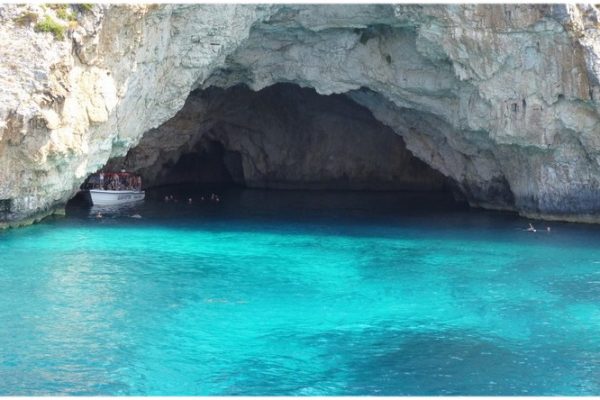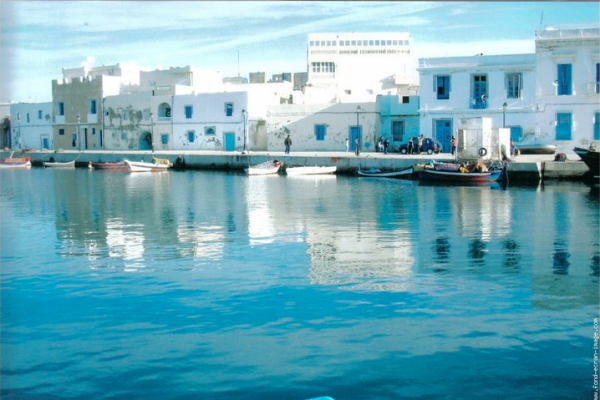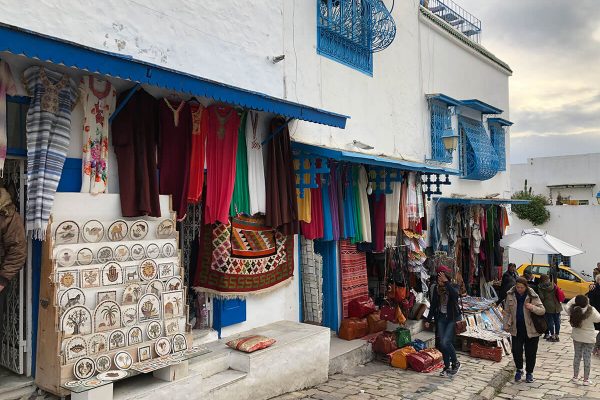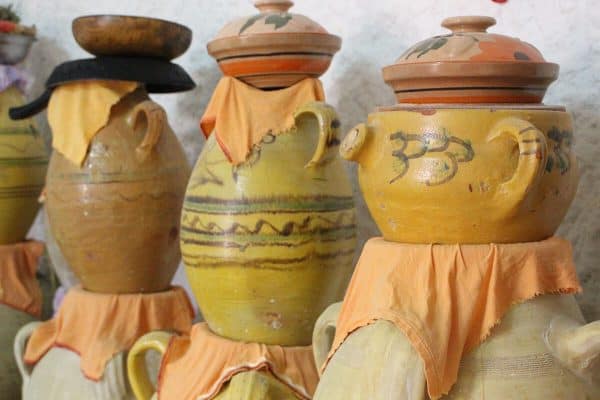 Join us on the Tunisia Cultural & Natural Tour!
9 Day, 8 Night
Explore the stunning southern region of Tunisia on this nine-day tour, focusing on its culture and natural beauty. Visit ancient Carthaginian ruins and other important archaeological sites that define the history of this country. Travel to unique desert oases and the Atlas Mountains to take in the breathtaking scenes. Along the way, learn about the date and palm production that is so important to this nation. A trip to this region would not be complete without also visiting two beautiful locations made famous by the Star Wars movies. 
Tunisian culture is very diverse, with influences stemming from many civilizations. These include Roman, Jewish, Christian, Arab, Turkish, European, and the native Amazigh or Berber. This mixture of backgrounds and positioning of Tunisia along the Mediterranean has shaped the country's unique culture. This excursion will allow you to experience this culture, taste the delicious food, and interact with the local people. You will leave with a greater understanding of the Tunisian way of life. 
Day 1
Welcome to Tunisia! Upon arrival, you will be met by an Off Season Adventures representative who will escort you to your vehicle and introduce you to your driver and guide. From here, our representative will transfer you to the beautiful city of Sidi Bou Said. In the afternoon, enjoy a relaxing stroll around this beautiful village, a perfect reproduction of a small Andalusian Arab town full of splendid blue damask portals, doors, and windows.
Arrive at

Tunisia-Carthage International Airport

(TUN) and meet a representative of the Off Season Adventures team

Transfer to Sidi Bou Said

Afternoon at your leisure

Overnight and dinner at Dar Said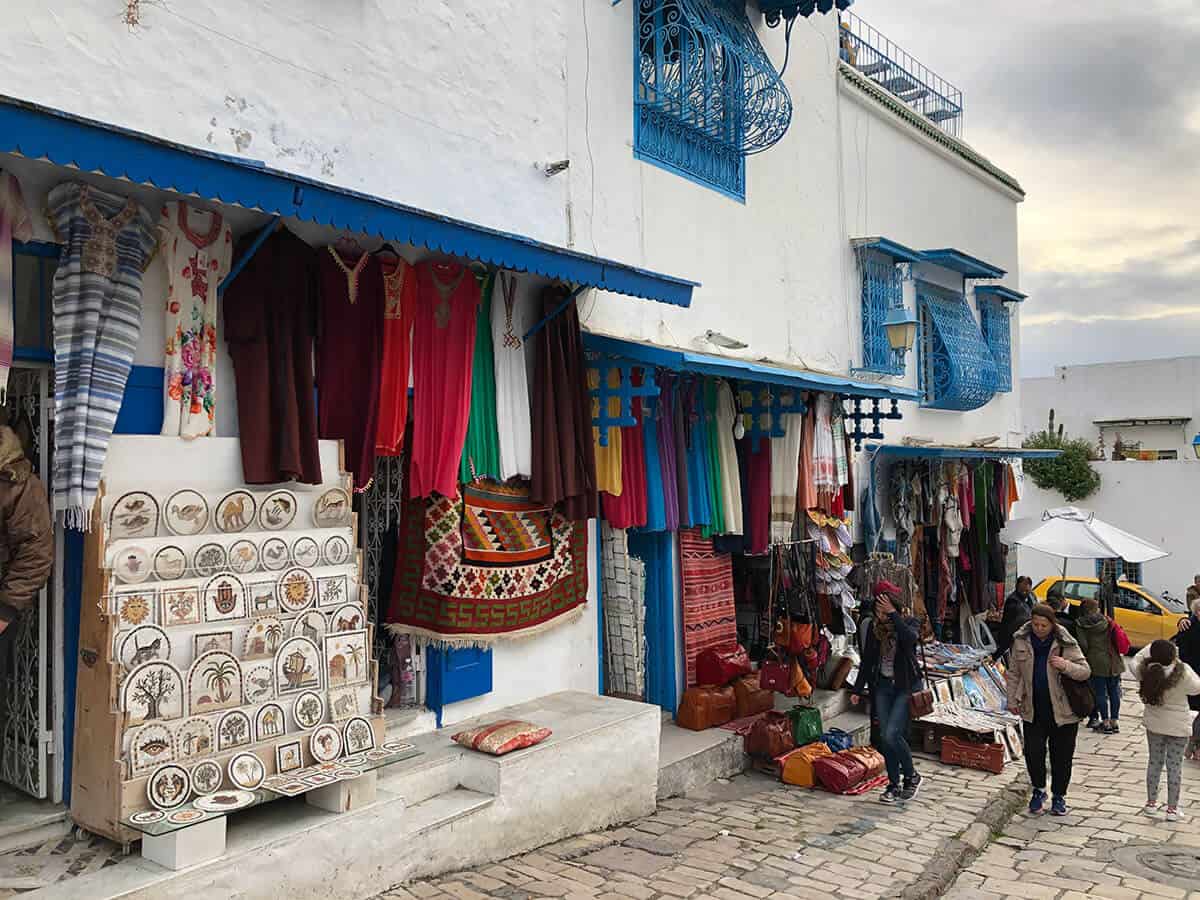 Day 2
Today head out on a full day of exploring! Start at a 15th century Beylic Palace which now houses the Bardo Museum, one of the most important in the Mediterranean. Here you'll find one of the largest collections of ancient mosaics, among many other significant treasures. In the afternoon, make the journey to the ancient city of Carthage. It was once a major port of trade and influence in the western Mediterranean and was established in the 9th century B.C. by a maritime people known as the Phoenicians. While here, you'll see the Punic ruins of Byrsa Hill and the former citadel. You'll also see Thermal Baths of Antonin, a site created under Emperor Antonius and one of the largest ancient baths in Africa.
Breakfast at your hotel 

Visit the Bardo Museum 

Lunch in Tunis Medina 

Tour of ancient city of Carthage 

Dinner on the town

Overnight at Dar Said
Day 3
After breakfast, travel to Hammamet, a one-time guarded village inhabited by ascetics who sounded the alarm when under attack. The town is now a thriving destination that allows you to immerse yourself in local culture, history, and nature. In the afternoon, travel to Sousse. It's one of the oldest towns in Tunisia, and its medina is a UNESCO World Heritage site. Visit the Sousse Architectural Museum and have the evening at your leisure to explore the city.
Breakfast at your hotel 

Transfer to Hammamet and tour there

Lunch in Hammamet 

Visit the medina and Architectural Museum of Sousse

Overnight and dinner at Dar Antonia
Day 4
This morning drive to the quiet town of El Jem. Here you will visit the remarkable Colosseum, built by Romans between 230 and 238 A.D. It is almost as large as the one in Rome and is a dramatic and impressive site. In the afternoon, travel to the charming port city of Sfax. A visit here will give you a look at contemporary Tunisian life. Sfax is not as frequented by tourists, so exploring the old medina will allow you to mix and mingle with the locals. This town is an example of how the modern and the ancient can coexist in harmony in Tunisia today.
Breakfast at your hotel 

Drive to El Jem and tour of  the Coliseum 

Lunch and afternoon at your leisure in Sfax

Overnight at Les Olivers
Day 5
Today's journey will take you to two locations made famous by the Star Wars movies. First, head to Tataouine and see the Ksour, also known as desert castles. Found all over this landscape, the Ksour is an impressive collective fortified granary of the Saharan nomads and old Berber villages. Enjoy lunch here before heading to the underground dwellings of Matmata, also known as a troglodyte. This town is situated on a sandstone shelf that is soft enough to work with simple hand tools but sturdy enough to provide homes for centuries. The Berbers have been digging out houses, which offer a good escape from the heat, in the ground this way for more than a thousand years. Spend the night at the lovely Auberge Tamezret.
Breakfast at your hotel

Visit Tataouine and Ksours 

Lunch

Tour Matmata and take some iconic Star Wars photos

Overnight and dinner at Auberge Tamezret
Day 6
Begin today with an unforgettable camel ride with stunning views of the Sahara. Then make your way to Tozeur. Along the way, you'll stop at Chott el jerid, a massive endorheic salt lake. After lunch, visit The Dar Chraiet Museum, considered one of the best and most exciting museums in Tunisia. A replica of the type of wealthy residence found in northern Tunisia; the museum houses an art collection dating from the 17th to the 20th centuries.
Breakfast at your hotel

Transfer to Douz

Morning camel ride

Transfer to Tozeur

Visit to Chott el jerid lake

Visit to the Chraiet Museum

Overnight at Dar Abu Habibi
Day 7
Today get ready for an exciting adventure to the mountain oases of Tamerza, Chebika, and Mides. Each oasis is beautiful and unique from the others, and the experience is truly breathtaking. Enjoy a local lunch at Chez Mounir before heading back to Tozeur. The afternoon is at your leisure to explore the town or relax at your hotel.
Breakfast at your hotel

Drive to Tamerza, Chebika, and Mides

Lunch at Chez Mounir

Afternoon at your leisure

Dinner on the town

Overnight at Dar Abu Habibi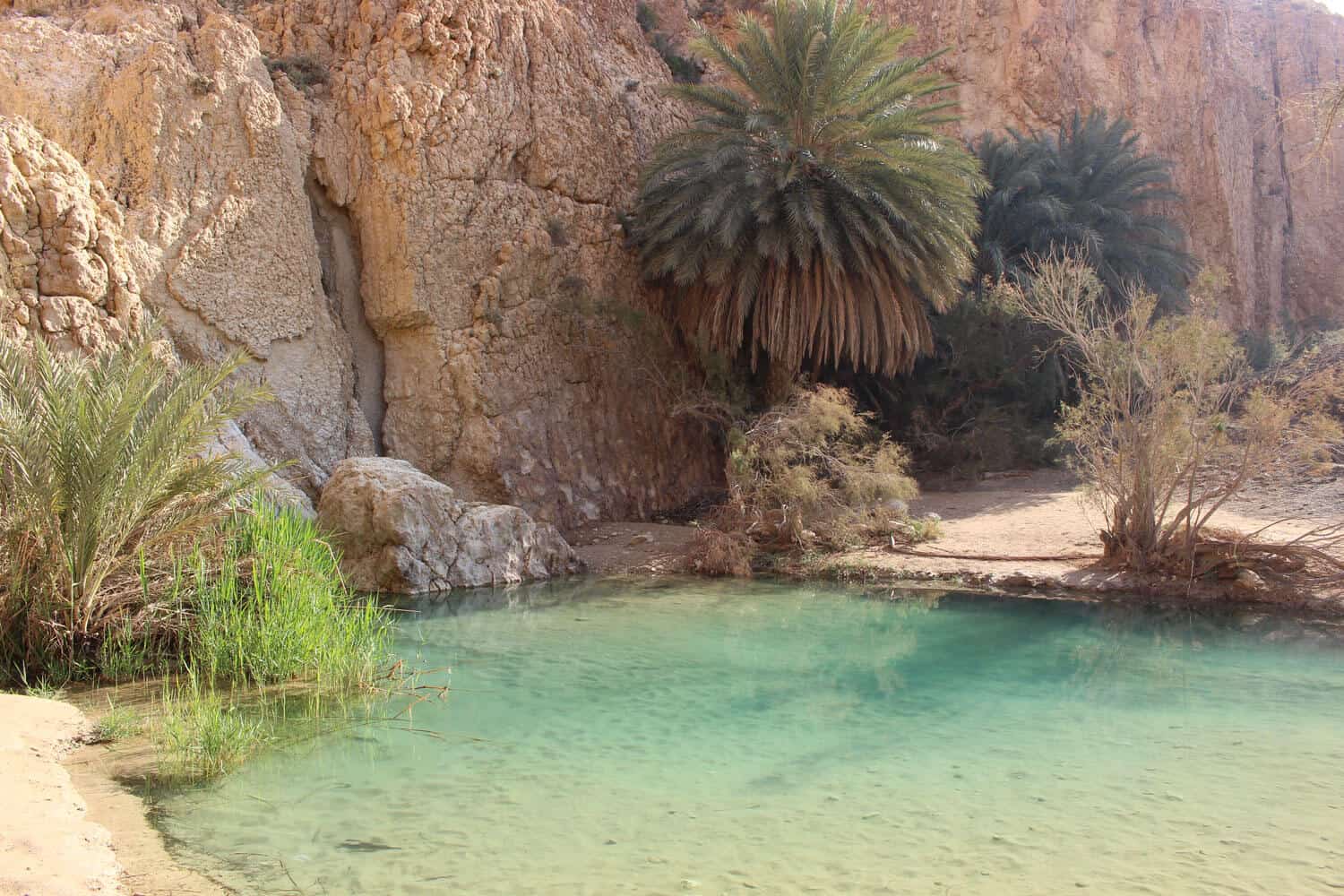 Day 8
This morning take a horse and carriage ride through the beautiful palm tree groves. Make stops along the way to learn about local date production. Next, take a tour of Tozeur's old city, or medina, and learn more about the traditional architecture that is common here. Sample local cuisine for lunch at a family home or an authentic restaurant. The afternoon is free for you to experience the city.
Breakfast at your hotel

Horse and carriage ride to learn about date production

Lunch at a local restaurant or family home

Relaxing afternoon at your leisure

Dinner on the town

Overnight at Dar Abou Habibi
Day 9
Today marks the end of your Tunisia journey! After breakfast, your guide will transfer you to Tozeur airport for your flight home.
Breakfast at your hotel 

Transfer to Tozeur Airport
We are happy to customize additional day excursions before or after this tour if you want to get more out of your journey.
Reserve Your Spot Today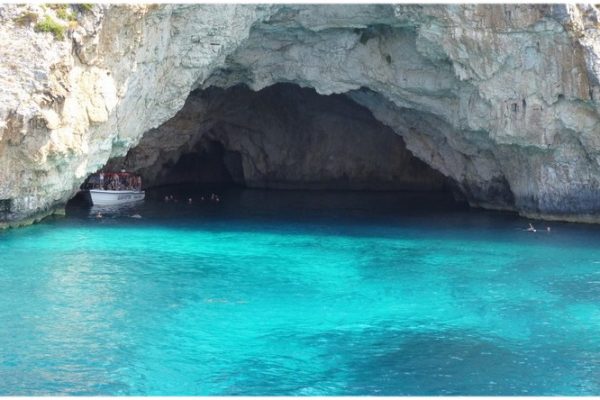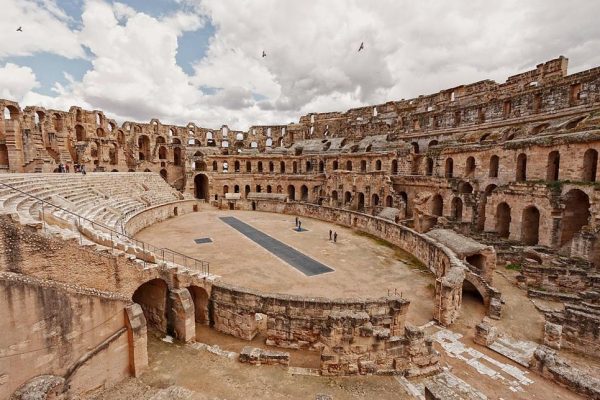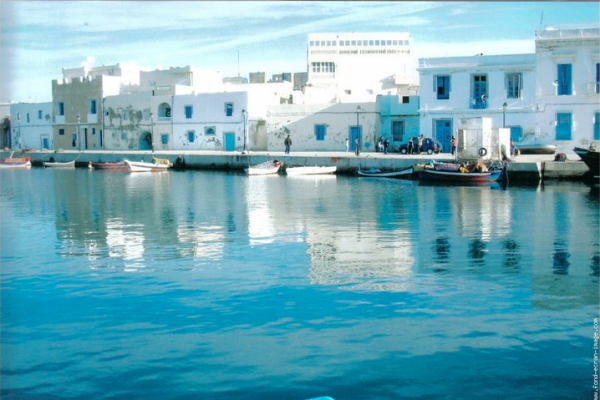 What's Included?
Your local, experienced driver with many years of guiding tours in Tunisia

Lodging in Tunisia on a full room and board basis

All cultural activities and excursions on itinerary

Contribution to the 501(c)(3) organization Second Look Worldwide

Beverages while in transit, excluding while in the airports

Driver transfers to and from airports

Wire Transfer and other banking fees
What's Not Included?
International flights to & from Tunisia

Tips for your drivers, tour guides, and lodges, highly encouraged

Alcoholic beverages

Traveler's Insurance, highly encouraged

Souvenirs and gifts

Baggage weight overages, if applicable

Any incidental expenses

Anything from room service or the hotel minibar
Dar Said: 2 nights, Bed & Breakfast Basis
Les Olivers: 2 nights, Full Room & Board Basis
Hotel Offra: 1 nights, Full Room & Board Basis
Dar Abu Habibi: 3 nights, Full Room & Board Basis
THIS 9 DAY, 8 NIGHT TOUR PACKAGE STARTS AT $2735 PER PERSON, DOUBLE CAPACITY, FULL ROOM AND BOARD.
Single Supplement is $515. 
50% of the total package cost must be paid 90 days before travel to retain your reservation, and the balance must be paid 60 days prior to the date of arrival.