"My passion drove me to study tourism as an academic and here I am as a licensed tour guide after a series of training.

Junu Shrestha

Tour Leader, Royal Mountain Travels, Nepal
Meet Junu Shrestha, a Tour Leader in Royal Mountain Travels in Nepal.
Here's her story: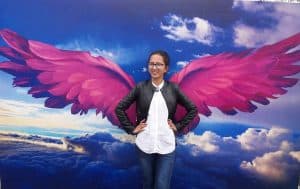 "My passion drove me to study tourism as an academic and here I am as a licensed tour guide after a series of training. Also I am doing my Master's degree in history, culture and archaeology of Nepal."
Diving Deeper
How long have you worked in the tourism industry? Have you had other jobs before? 
It has been 2 years since I have worked in the tourism industry. Before that I worked in ticketing field.
Tell us a little bit about your friends and family. What do they do? Where do they live? Describe their personalities.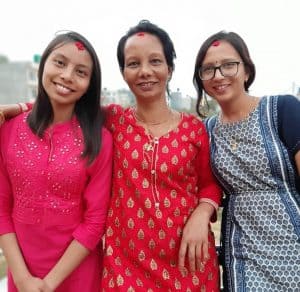 I have 3 members in my family including my mother, my sister and me. I also have a puppy 'Easter' whom I love very much. My sister is working in the banking industry and we all live together at Bhaktapur. My sister watches series a lot and takes care of our puppy and my mom is a passionate cook. She cooks lots of delicious food and I plan to learn all her skills someday.
My nurturing is pretty much with all the traits of personality and handling them with love and care.
Tell us a little bit about what your country means to you.
My country drove me to my field, the natural beauty, the mountains, rivers and lakes along with the cultural and historical places all drove me to the tourism industry. Everyone from my family and friends live here, so it is my motherland.
What do you think is the best thing that travelers will learn when they visit your country?
When foreigners visit Nepal, first of all they are amazed by the mountains and the natural beauty when they reach Pokhara. They also learn about different cultures and traditions and get to celebrate many Jatras and festivals when they are in Kathmandu. It will totally be a different experience for them coming from the Western part of the Globe.
What is your personal favorite place to visit or activity to do in your country?
Among many places I visited, Upper Mustang is my favorite. The travel along with the destination was amazing and full of surprises. You don't know where you should go and had to find your own way and did not know what to expect during the travel and that was what is amazing to me. One of my favorite activity in my country to Trekking and Hiking during my free time.
What is your favorite food and why? Describe it!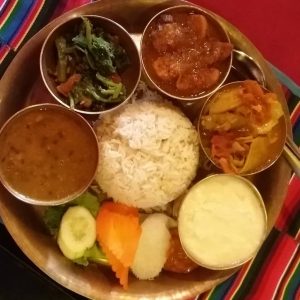 My favorite food here at Nepal is Newari Khaja Set and Momos and also I absolutely love Chicken Dal Bhat. I never get tired eating these food no matter how many times I eat. Khaja set are Newari dish which consists of beaten rice, lentils, aalu taama, alu kerau, tomato pickle, bhuttan, and chicken choila or buff choila.
Similarly, Momos are also called dumpling and very popular snacks in Nepal, almost every restaurants serve this dish in Nepal.
Chicken Dal Bhat is a combination of Chicken, rice and lentils along with pickles and ghee which is the food eaten on daily basis in Nepal.
How does your travel organization positively impact local communities, wildlife, and/or the environment?
My travel organization's main objective is to develop sustainable tourism. Some of the ways it impacts are by women empowerment, supporting local communities and indegenous groups and promoting remote locations in the field of tourism. It also encourages E-vehicle and discourages the use of plastic and the office is also powered by Solar Energy.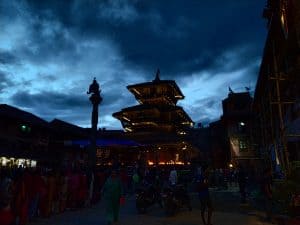 What is one piece of advice that you would give travelers about traveling to your country?
I would like them to respect our culture, religion and people. People in Nepal have a lot of faith on our gods and traditions and I would like to ask them to respect those trusts.
What is the best thing about your country?
The best thing about my country is the mountains and the people living here. The people are very loving, caring and hospitable which makes the tourists want to visit again and again.