"I believe Nepal has something to offer for everyone; biodiversity, wildlife, natural beauty, culture, history and so much more.

Kalpana Bhattarai

Tour Leader, Royal Mountain Travels, Nepal
Meet Kalpana Bhattarai, a Tour Leader in Royal Mountain Travels in Nepal.
Here's her story: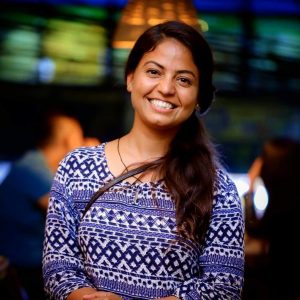 "Recently after my undergrad, I was searching for a job change which would not limit my enthusiasm for travel, creativity and my hunger for knowledge to a simple 9 to 5 job. I wanted liberty in my job that would allow me to do things my own creative way while letting me experience every nook and corner of my country. And after I joined the tourism industry, I have just been happier and happier every day."
Diving Deeper
How long have you worked in the tourism industry? Have you had other jobs before? 
I have worked in the tourism industry for the last ten years. Yes, I had other jobs before as a marketer, accountant and a teacher.
Tell us a little bit about your friends and family. What do they do? Where do they live? Describe their personalities.
I have many friends as bankers, scientists, teachers, sociologists, doctors, politicians and engineers in Nepal and also around the world. Although the different opinions about careers, we all fully respect each other and get along very well. And, also after joining the tourism industry, I have found like-minded people as good colleagues and good friends. 
My family has migrated from the laps of Langtang mountain range to the Kathmandu valley for search of jobs. I have an elder brother and three younger sisters.
Tell us a little bit about what your country means to you.
My identity originates from my country. Nepal has stunning nature; rich culture and history that has never failed to entertain and fascinate me and the travelers. Thus, I want to give something back to it. I want to proudly show people the beauty my country holds.
What do you think is the best thing that travelers will learn when they visit your country?
The best thing that travelers learn when they visit my country is ways to stay happy, even though Nepal is lagging behind in modern technology and modern infrastructures.
It hoards stunning natural beauty and meaningful culture digging from its vast history. Through the welcoming hospitality culture, it shows people endless happiness in the smallest of things.
What is your personal favorite place to visit or activity to do in your country?
Since, I personally enjoy being near the mountains and nature, trekking around the Annapurna and Everest circuits is my favorite activity. Also, visiting the cultural heritage sites gives me great joy.
What is your favorite food and why? Describe it!
I absolutely love to eat momos. You can get every variety of fillings in these cultural dumplings. Even if I'm having momos every day, I find different varieties.
How does your travel organization positively impact local communities, wildlife, and/or the environment?
My travel organization supports and approaches sustainable tourism. It is constantly involved in empowering women. At the same time it is a Travelife-certified company which respects animal rights. Thus any activity under my travel organization does not harm the wildlife, nature and environment. It empowers the community through tourism through home-stays and day tours.
What is one piece of advice that you would give travelers about traveling to your country?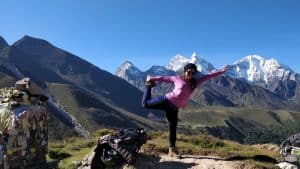 Enjoy your time here, explore the culture, leave footprints and take the memories.
What is the best thing about your country?
Nepal has splendid natural beauty from the flat lands of Terai to the valleys and the mountains. It has a very interesting and meaningful culture and a very fascinating history.
The Nepalese are very bright, cheerful and will welcome you with hospitality. I believe Nepal has something to offer for everyone; biodiversity, wildlife, natural beauty, culture, history and so much more.