"The lifestyle we have now, which is unaffected by Western living, is very unique, and if travelers get to experience that, I believe they will get insight to how, without having many possessions and luxuries, you can be so happy.

Narayan Tamrakar

Tour Leader, Nepal
Meet Narayan Tamrakar, a Tour Leader in Royal Mountain Travels in Nepal.
Here's his story: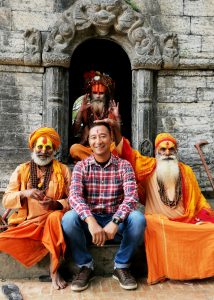 "I was born and raised in Patan, Southeast of Kathmandu, Nepal. I had a big joint family – around 25 people living in same house. I grew up in local community; living and breathing the culture and traditions; celebrating and being part of feasts and festivities; during the time when the internet was not in your dreams and television just starting to take over the radio. My childhood may be like a fairytale for newer generations, as you need to use imagination and make friends around to come up with things to entertain yourself. We used to be so creative participating in many of the festivals that are celebrated all year around in Kathmandu at that time – most of which are now almost extinct. 
I come from the family of coppersmiths. My father and forefathers dealt in the business of copper, brass, bronze and some of them were also skilled in making pots and utensils. So, the tradition was to take over the family business as you grow up. I was fortunate to be attending a good school in the city during my childhood where I learned my English. My father might have had a dream that I will do something different than taking on family traditions of being a coppersmith if I am attending school. But at one point in my life, when I couldn't decide what I wanted to do with my study, I was looking after our traditional shop selling pots, utensils, and souvenirs. 
In 2000, I got training here in Nepal to be working as a medical transcriptionist for American Hospitals. It was an outsourced job from America which skilled me with basic medical terminology, listening to doctor's dictation and transcribing and recording them in written format to be used for hospital and doctor's references. I also went to Delhi, India for the same job and lived there for 1 year.
In 2007, I underwent training with Nepal Academy of Tourism & Hotel Management to acquire a license to become a Tourist Guide. After I got my license, I worked as a freelancer for a few years and then I came in contact with Royal Mountain Travel in 2009. I got my license as Trekking Guide in 2010. Since 2009 and until now, I have been leading trekking and tours for Royal Mountain Travel."
Diving Deeper
How long have you worked in the tourism industry? Have you had other jobs before?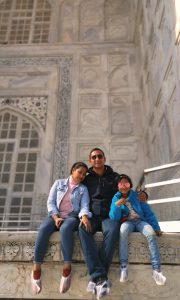 As mentioned above, I have been working in the tourism industry since 2007. 
I used to look after our family shop and was working as a medical transcriptionist before I joined tourism.
Tell us a little bit about your friends and family. What do they do? Where do they live? Describe their personalities.
I am married and with a daughter. I am the eldest among three of my siblings. I live with my parents – my mom and dad.
Tell us a little bit about what your country means to you.
I have had an opportunity to travel to many countries around the world, and they are all so beautiful and unique. But for me, Nepal is where my heart is. That is where you will see me and that is where I believe I will breathe my last breath.
What do you think is the best thing that travelers will learn when they visit your country?
You will see history, culture, traditions, wildlife, highest mountains, landscapes and a lot. But I feel that we Nepalese are very relaxed – maybe sometimes relaxed to the point of comparing us being lazy. We have time for everything and everyone. We are not self centered. We take time to help and manage time for others too. The lifestyle we have now which is unaffected by Western living style yet, is very unique and if travelers get to experience that, I believe will give them an insight of how without having much possession and luxury, you can be so happy.
What is your personal favorite place to visit or activity to do in your country?
There are so many places and activities to choose from. But personally, I prefer Chitwan National Park because I love nature and wildlife. The Park has lots of wild animals like tigers, elephants, deers, great one-horned rhinos, sloth bears, leopards, crocodiles, etc.
My favorite activity to do is to go for a jeep safari in the Park and search for wildlife, especially elusive Royal Bengal tiger.
What is your favorite food and why? Describe it!
When I was a kid, I thought I could survive eating momo (Nepalese dumplings filled with meat or vegetables) everyday.
Now, I think, I eat Dal Bhat almost every day. It is Nepalese staple diet consisting of steamed rice, lentil soup, seasonal vegetables, tomato salsa, and meat of choice. It can also contain a few more curries, pickles and delicacies.
How does your travel organization positively impact local communities, wildlife, and/or the environment?
My organization, Royal Mountain Travel – Nepal, has always been guided and motivated to take actions that create a positive impact on local communities, wildlife, and environment.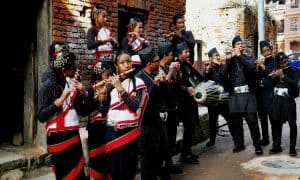 Royal Mountain Travel is investing in the local communities believing it benefits the most important and often underserved stakeholders: locals. Also, it invests in and creates programs that promote women's empowerment. My organization also creates economic opportunities to support indigenous groups in rural areas by developing new tourist destinations so that new communities can benefit from tourist activities.
Royal Mountain Travel has established a community homestay network that helps to empower communities and women all over Nepal by creating opportunities for them to connect with travelers through a homestay program. Community Homestay Network also sets up skills training classes, provides loans, medical care and education support to foster stronger communities.
My office is powered by climate friendly solar panels. We have no single-use plastic policy in our office and implemented this practice in the field by providing guides and porters with reusable metal water bottles. My organization is experimenting on a few electric vehicles and in the process to replace diesel vehicles with electric vehicles. My organization is also working to understand their carbon emissions to become carbon neutral.
My organization discourages any activities that involve the use and exploitation of animals. RMT believes that wildlife should be in their natural habitat and not be domesticated and exploited as tourist attractions.
What is one piece of advice that you would give travelers about traveling to your country?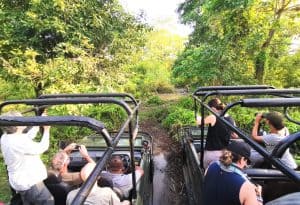 Kick off all the luxuries and comforts of your home and open up all your senses (including your sense of humor), because it is going to be a rollercoaster ride into cultural shocks, myths, legends, landmarks, temples, 330 million Gods and Goddesses, highest mountains, wildlife, and encountering people who have nothing much to offer but their smile. 
What is the best thing about your country?
Nepal is a small country, but it is culturally diverse with landscapes ranging from 60 meters above sea level to 8848 meters tall Mount Everest. There are more than 120 languages spoken in the country. So, every new destination you travel will have a unique landscape, history, culture and language.
In summary: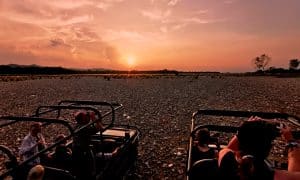 Currently, we are going through this phase which none of us in our wildest dreams have imagined – the whole world is shut down. Many industries are hit hard, and tourism has been one of the most affected by this crisis. I see many people losing their job that they were so passionate about. So at this moment, I would like to take time to have hope and patience for a better future for us in the tourism and hospitality industry. I believe that we are going to come back much stronger and will be spreading happiness again to the people around the world by leading them to discover great experiences and adventures of their lifetime.
Even though my profession is tough in nature , I deal with patience and care. Everyone has their own story. Traveling helps in unveiling lots of emotions. Humans have different colors of emotions.  It's a privilege seeing people overcoming their pains or fear. In the end of the trip, people's smiles matter. Their appreciation and happiness counts the most. This is what keeps me motivated.