"I stand out of this crowd in the race to move out of my country. I always loved to stay in my country and struggle in my own country and wanted to be satisfied with the opportunity that my land gave me.

Shruti Shrestha

Tour Leader, Royal Mountain Travels, Nepal
Meet Shruti Shrestha, a Tour Leader in Royal Mountain Travels in Nepal.
Here's her story:
"I was born in Newar Family in Patan – one of the local ethnic groups from Kathmandu. Patan is one of the cities among three cities – Kathmandu, Patan & Bhaktapur which is also known as Kathmandu Valley with an elevation of 1200 meter. 
In terms of religion, we believe and practice both Hinduism and Buddhism. It is something of an example to the world that how beautifully these multiple religions go together and also all of the existing other religious people do not have any conflict with each other too.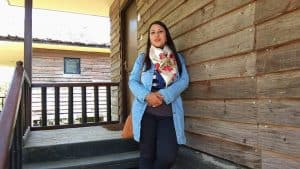 I was born in middle class family and struggled in my life a lot to become a person who I am right now and I cannot thank enough to my parents for everything that they have done for me in spite of the adverse situation. I grew up in a very traditional and conservative family with a belief that girls should not get education like boys do and should engage in household work and take care of family. I am fortunate to succeed in my education up to a Master in English Literature and Sociology.  Our family structure is a joint family where everybody lives together in one home of large members of the family and one can imagine the load of housework that I am responsible to carry on my study and to fulfill the responsibility of household work at the same time.
As for my profession, As soon as I completed my secondary level education when I was 16, I joined school as a Primary School Teacher and continued as Secondary Teacher for Higher Level Students later on till 2014. By this time, I already have a small family with my two daughters (5 & 10 yrs at the moment) and my husband who is also in the tourism business.
My husband has encouraged me to join the tourism sector and now I am happy to be associated with the tourism sector and enjoying my job at fullest as Tour Leader for 4 years."
Diving Deeper
How long have you worked in the tourism industry? Have you had other jobs before? 
It's been 4 years that I have been working in the tourism industry. Formerly,  I was a school teacher where I taught for more than 15 years with a subject- English literature up to the Diploma Level.
Tell us a little bit about your friends and family. What do they do? Where do they live? Describe their personalities.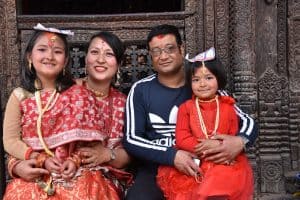 I have a small family, my husband and two daughters (10 & 5). My husband also works in Tourism with the experience of more than 20 years. In fact, he is the one who encouraged me to work in Tourism. My parents and friends also live in Kathmandu valley. My father is retired and enjoying his life participating in various activities with his friend circle. I used to have friends who are teachers too but since I joined Tourism, I have built a lot of friends and connections with the tourism related friends. At the same time, my profession allows me to get in contact with the people around the world thus giving me the opportunity to know friends from around the world with a wider horizon and not only to make them understand about our culture but to understand their culture at the same time.
Tell us a little bit about what your country means to you.
My country Nepal is a small country, and I am proud to be Nepali. Nepal, a land of Mount Everest and birth place of Lord Buddha and full of art, culture and heritage. Compared to other developed countries, Nepal is still struggling. The economy of Nepal is slowly taking its speed but still life is difficult and challenging especially in remote areas. Due to lack of adequate opportunity, most of the people migrate to other developed countries seeking a job or for further education. I stand out of this crowd in the race to move out of my country. I always loved to stay in my country and struggle in my own country and wanted to be satisfied with the opportunity that my land gave me. Our earnings may not be that decent but I value any small contribution that I am making to my country and to have an opportunity to take my job without scarifying the needs of my family.
What do you think is the best thing that travelers will learn when they visit your country?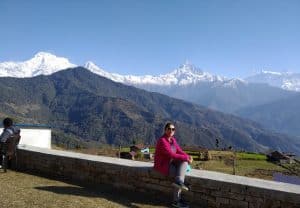 The best thing the traveler will learn when they visit Nepal is Spiritual aspect of life. Most of them are living in developed countries and they are bound to be familiar with the physical aspect of life being materialistic. At the same time, they can explore our unique culture, art and heritage if not just wonder with our natural beauties be it serene mountains or natural wildlife.
What is your personal favorite place to visit or activity to do in your country?
I am a nature lover and I feel fortunate to be born in this country full of natural beauties. I especially love mountains. As we have many mountains and places to be visited, still there are many unexplored places for me in my own country. Mardi Himal is one of my favorite places to visit and trekking to that area which is not that crowded and the view of majestic mountains cannot be explained in words for which one has to be there and feel it. Trekking is my favorite activity that I would always enjoy and I am glad that my job allows me to take advantage of it to enjoy my group and myself.
What is your favorite food and why? Describe it!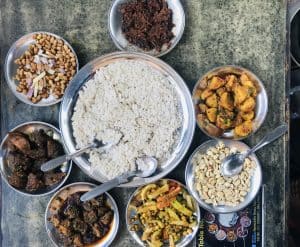 I love to try food from around the world and the gastronomy of our country, especially from my place of origin , is unique. Newari (typical food of Newar ehtnic group) food is my best food when I am hungry but I love international food too.
How does your travel organization positively impact local communities, wildlife, and/or the environment?
Our Organization is committed to sustainable tourism and contributes directly to the local community and environment. For example, we encourage our travelers not to use plastic water bottles instead we provide them a water bottle where they can refill in the same bottle. We are substituting our mode of transportation for our guest to electric car as it is more environment friendly. In organizations, business should not be too commercial and be only a money making machine whereas it should contribute something to its community as well. Our organization is leading a community to involve in a more professional and systematic manner to run community based home stay and the advantage that the local community is getting is visible. Our organization has initiated the community home stay concept e.g. Panauti, Patan and Chitwan where our guests can experience the local life and the local community is benefited directly. In Nepal, still priority is not given to women, especially in the tourism sector where lots of exposure is needed and frequent travel is required. Our organization has a clear policy to give equal opportunity to women and empowering women. So, you will see the majority of the staff are women and leading the organization to its success through women. Being a woman, I am proud to be a part of Royal Mountain Travel where I am treated respectfully and trusted in my confidence, capacity and efficiency to the job entrusted to me. Likewise, we have confident women drivers who drive electric cars. In the context of Nepal, female drivers are rare to find. Above listed are just examples of how travel organizations can positively impact local communities, wildlife and the environment.
What is one piece of advice that you would give travelers about traveling to your country?
Nepal is one of the safest places to travel and please visit our country without any worry. You do not need lots of planning. We do it all for you and we are flexible. Just one thing you should keep in mind while traveling outside Kathmandu that we may not offer you the modern facilities and comfort that you are accustomed but you will surely get peace of mind, relaxation and lifetime memorable trip. That is for sure if you are a nature lover.
What is the best thing about your country?
The best thing of our country is friendly people where people treat each and every guest as GOD. In Nepal, the quote 'Atithi devo bhava' is practiced which means guests are GOD. Besides, people, we have art, culture, heritage and natural beauties to offer to our guests.
In summary:
Ever since I have started working as Tour Leader, I have been very much excited and have enjoyed my job to the fullest where I can organize and manage my time to my job and to my family as well. Previously, I had worked as a teacher for more than 15 years. Being a woman, as other women, I also faced lots of limitations and constraints in terms of my career.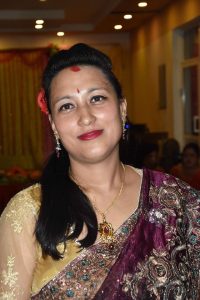 Being a teacher, I did not have any knowledge about tourism and how it actually works and the best possible area within tourism to get involved with as there were several sections one can be involved with. My husband is in a similar field for many years and he is the one who encouraged and prepared me to join the tourism sector and it did not happen in short planning. He has devoted several years to make me prepared. 
First of all, to make familiar with foreigners and to practice spoken and professional English, he suggested me to join social connection called couch surfing where we have offered place to stay for the travelers free of cost and I have made many International friends and understood international people, there culture, lifestyle, priorities and their interest and I have dramatically improved my spoken English as I am not that bad with written English. 
The next step was taking them around my city as a local guide and to tell them stories about our  culture and tradition. I was enjoying it a lot and I have decided to get a Government license to work as a Tour/Trekking guide and I have enrolled in the same and successfully got my license to work as a Tour/Trekking Guide officially.
At the time, I had a license in my hand, I had plenty of experience as a Tour and Trekking Guide. I was doing it for my interest. Now I have started working professionally as a Tour/Trekking Guide full time.  I am very happy that I am associated as full time Tour/Trekking Guide of Royal Mountain Travel and enjoying my job at fullest.