"I believe Nepal is a little paradise with the combination of beautiful mountains, serene environment, very warm welcoming locals and their culture.

Baikuntha Simkhada

Tour Leader, Royal Mountain Travels, Nepal
Meet Baikuntha Simkhada, a Tour Leader in Royal Mountain Travels in Nepal.
Here's his story:

I am Baikuntha Simkhada (Bk) from Nepal, and I've been working as a Tour leader at Royal Mountain Travel since 2005. 
Originally, I am from Gorkha–the Western part of Nepal–and came to Kathmandu for further study after completing school leaving certificate (SLC) in 2000.
Diving Deeper
How long have you worked in the tourism industry? Have you had other jobs before? 
I used to work at book publications as a sales staff. In 2003 I entered into the tourism sector as a trekking porter at Royal Mountain trekking, since 2005 I have been working as a Tour leader leading trips to various parts of Nepal and Tibet.
Tell us a little bit about your friends and family. What do they do? Where do they live? Describe their personalities.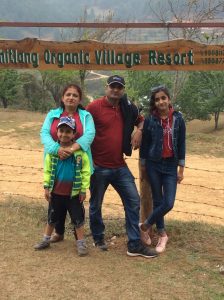 Several of my friends are trekking guides, porters and tour leaders.
About my family: I am a married a father of two children who live with me in Kathmandu studying in private school, and my wife works a at dental college & hospital. As I mentioned above, I came from the countryside; my parents are still in the mountains working as  farmers.
Tell us a little bit about what your country means to you.
I believe Nepal is a little paradise with the combination of beautiful mountains, serene environment, very warm welcoming locals and their culture.
What do you think is the best thing that travelers will learn when they visit your country?
That Nepal is not only the home of Mount Everest or the birth place of Lord Gautam Buddha but Nepal is also about its people, their hospitality and the diverse culture and nature
What is your personal favorite place to visit or activity to do in your country?
I came from the countryside. I love mountains personally. I like the Annapurna region which consists of local communities and mountains. I would highly recommend doing some trekking around Annapurna if they are physically fit apart from the trek, safari in the Chitwan National Park is my recommendation and staying in the local community would give a real authentic experience too.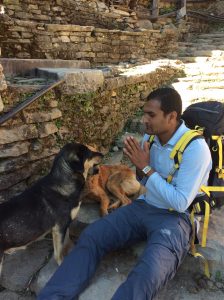 What is your favorite food and why? Describe it!
As a Nepalese I love Nepali food: "Dal bhat", which consists of plain rice, Dal soup, seasonal vegetables curry, meat curry, seasonal salad, pickle, curd, and papad dum is a nutrition food.
How does your travel organization positively impact local communities, wildlife, and/or the environment?
The company where I work encourages sustainable tourism where local communities get more benefits directly and indirectly both, by using homestay programs and working as guides. We have a vital role to minimize plastics use; we started to use refillable water bottles instead of plastic.
What is one piece of advice that you would give travelers about traveling to your country?
As foreign travelers it can be hard to understand the local language; make sure to listen to words rather than guess. 
Keep in mind that you are traveling to third world infrastructure which can be very basic. 
Food can be spicy.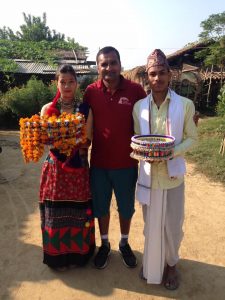 What is the best thing about your country?
Natural and cultural diversity; honest and happy people; variations of food.
In summary:
With my 15 years of experience in the travel industry as a trekking and tour guide, I have witnessed that travel is the force for good, from providing employment opportunities not just to the experienced travel professionals but also to the people in marginalized communities to promoting local culture, tradition and heritage sites.