"I have been working in [the] tourism field [for] 19 years as a tour leader. 10 years back I took the tour guide training...

Puskar Aryal

Tour Leader, Trekking Guide
Meet Puskar Aryal, a Tour Leader and Trekking Guide in Nepal.
Here's his story:
"I was born in a middle class family in Kathmandu.  My father was not a rich man but still he sent me to an English medium school.  It was an expensive school for him. I was more interested in sports than study. I used to play football and table tennis.  In college, I studied commerce first, and later I took arts (history/culture).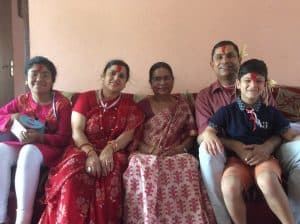 I developed a profound interest in Eastern philosophy and meditation which continues now. I have always been an outdoor person.  Hiking and trekking is my hobby also. I like taking pictures also. Here in Nepal, most of the marriages are arranged marriages–arranged by parents and relatives. I also have an arranged marriage. 
My wife Ajita is a lovely person, very patient and kind. She is very busy with her household work and her job. We have 2 kids. My daughter Aditi is 12 years old and my son Abhinav is 7.
I live with my wife, kids, and my mother. 
I have been working in the tourism field for the last 19 years as a tour leader. 10 years back, I took the tour guide training."
Diving Deeper
How long have you worked in the tourism industry? Have you had other jobs before? 
I joined Tourism industry in 2001. I love my job as it gives me the opportunity to show people my beautiful country, and I love meeting people.
I used to work in a hospital before.  I was an administrative officer in the Hospital.
Tell us a little bit about your friends and family. What do they do? Where do they live? Describe their personalities.
Most of my friends are in the same profession.  They are highly motivated, energetic and intelligent guys.  My wife Ajita is running a small school for little children with 30 children there. We all live in Kathmandu.
What do you think is the best thing that travelers will learn when they visit your country?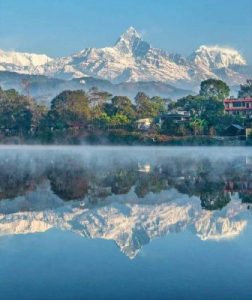 Travelers will learn about our rich and diverse cultures. They learn about our festivals and about our flora and fauna.  Above all they will learn how people can be still happy without having much material wealth.
What is your personal favorite place to visit or activity to do in your country?
My personal favorite place to visit inside my country is Chitwan National park. I enjoy doing activities like jeep drive and boat ride there. There are lots of rare and endangered animals and birds there.
What is your favorite food and why? Describe it!
I love momos, I can also teach how to make momos. Momos are the most famous lunch in Nepal. 
Different types of vegetables or chicken is wrapped in a dough.  Fine wheat dough and steam it for 20 to 30 minutes and momo is ready. It is served with momo sauce. Very delicious.
How does your travel organization positively impact local communities, wildlife, and/or the environment?
Our organization is encouraging and supporting local communities by developing home-stays. Tourist money directly go to the local villages and families through home-stay programs. Women in communities runs those home-stays, that empowers the women.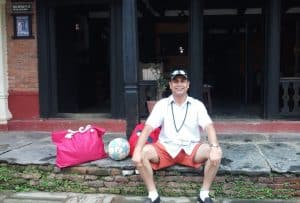 Local communities now know the benefit of tourism so they are helping our government to protect the wildlife from poachers. In Nepal we are celebrating 3 years of 0 poaching. In Nepal 24 percent of our land it protected areas and National parks.
What is one piece of advice that you would give travelers about traveling to your country?
Please keep an open mind, embrace the bizarre is my advice. What I mean is everything will be different and bizarre. They need an open mind to enjoy that and a good sense of humor is essential.
What is the best thing about your country?
Its people. Nepalis are very hospitable, kind and generous people.