"We were taught to break all the stereotypes that they have in Nepalese society for women.

Sabita Khadka

Travel Consultant in Royal Mountain Travel, Nepal
Meet Sabita Khadka, a Travel Consultant at Royal Mountain Travel in Nepal.
Here's her story: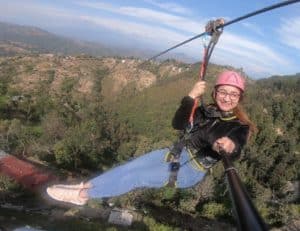 Born and brought up in Kathmandu to an Army family, I completed my schooling in all-girls school for the daughters of the Army Personnel. Women empowerment and its importance has been engraved in our mind from the early stage of life. We were taught to break all the stereotypes that they have in Nepalese society for women.
After completing high school, like all parents in our community, my family wanted me to do join nursing college or join the banking sector which has been the career choice for my friend circle. I, for sure knew this is not something I wanted to do in life, while I was searching for colleges and the faculty that I wanted to join in, one day my father came with the suggestion to complete my bachelor's degree in Travel and Tourism sector. By this time no one from our family or friends or any relatives has joined the service sector, I then started visiting colleges that offered Travel and Tourism and finally joined in one. 
At the end of my semester in college, I joined Royal Mountain Travel as an intern, which gave me an insight of the travel industry, how it functions, its impact in the local society and changing the lives of people in general. And here I am today, doing what I love every day from the past three years. 
Diving Deeper
How long have you worked in the tourism industry? Have you had other jobs before? 
With my academic background in Travel and tourism, I have been working in tourism industry from past 3 years.
Before this, I worked in a School for a year as a teacher.
Tell us a little bit about your friends and family. What do they do? Where do they live? Describe their personalities.
I live with my family of five, in which my father is a retired army officer, my mother is a housewife and my two brothers who are studying. My friend circle mostly consists of the ones involved in travel industry and some who have traveled overseas for further studies, some are working nurses and some working in Nepal Army.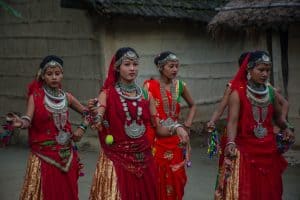 Tell us a little bit about what your country means to you.
Whoever said it, said it right, Nepal is a Shangri-La – A piece of heaven with the scenic views of the majestic mountains to the beautiful flat lands of Terai, warm and welcoming locals and home to 10 world heritage sites. The cultures and traditions, so different and unique from each other, just like a garland Woven from hundreds of flowers. Nepal, is my happy place and this is where my heart belongs.
What do you think is the best thing that travelers will learn when they visit your country?
I would hope people will see and learn how one can enjoy life simply with the limited resources away from the modern technology. The different cultures and tradition they will witness during the tour. Most of us have hectic life, and are in rush to get things done. World is changing so fast, everyday there are new developments and in this rush we forget enjoying life. 
The hustle and bustle life of Kathmandu will welcome one to Nepal, which is also known as the city of temples, one can find temples and shrines in very nooks and corners of the city. If you drive only one hour from Kathmandu be it Bhaktapur, Panauti, Dhulikhel or Nagarkot the city life slowly fades away and you are welcomed to the slow pace lifestyle, clam and soothing vibe of Kathmandu Valley. 
If you leave the Kathmandu valley and travel for trekking or for culture tour, you will see a whole different side of Nepal. Your experiences will be more about the journey than only of the destination. You will see the locals engaged in their daily lifestyle away from the modern technology and enjoying the simplicity of life, every place will have their unique culture, tradition.
Even for me as a Nepali national, every time I visit any new destination within the country, I find the lifestyle of people living in other regions of the country different from each other, their mother tongue and even the tone of their voice when they speak Nepali, the variety of foods to the beautiful cultural dress they wear, so unique. 
What is your personal favorite place to visit or activity to do in your country?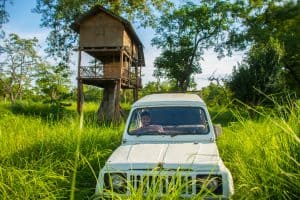 My favorite destination has to be Bardiya after my recent visit in last December. Located in the mid – western part of the country, Bardiya national park is known for the Tigers. The jungle walks and Jeep safari in the national park with unspoiled wilderness of sal forest, grassland was nothing but pure joy. The Tharu locals in Bardia were too innocent to be true, the warm welcoming nature and their culture, the plane lands and one of the best view of sunrise and sunset you will ever see.
What is your favorite food and why? Describe it!
The Newari khaja set is one of my favorite food, being from completely different community when it comes to caste, culture and tradition.  I was introduced to this food by one of my Newari friend and now this has become my comfort food.  
The locals of Newar community have this food mainly in the festivals and jatras or any main celebration that they have in life which is famously known as Bhoj in Nepali, all the relatives, friend and families will gather and eat together, almost all the family will be engaged be it preparing the food items or making the sitting arrangement.
How does your travel organization positively impact local communities, wildlife, and/or the environment?
As a company fully dedicated towards sustainability, Royal Mountain Travel has been doing its part from past 15 years. As a Company, Our Approach is simple, we seek to offer visitors something different: genuine experiences designed sustainably with an eye for a positive impact. Hence, we are guided by three main core values, Community empowerment, Environmental Stewardship and giving back. We have been communicating these mostly through our CSR of Community homestay network, which now has become an individual enterprise after receiving grant from Booking.com. We are working as a bridge between travelers and the locals making sure that the travelers make the most of the visit and providing positive impact to the locals just by having their best time.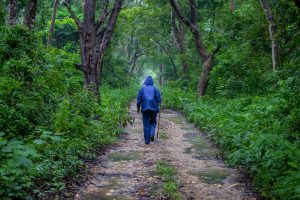 These days we are working on developing alternative destinations and minimizing mass tourism in country, leaving the mainstream destinations but not compromising on the experience for the travelers. We hope to send travelers to not just the central and western part of the country but also to the far western and far eastern part of the country which has their own unique product to offer.   
We strongly believe, travel is a force of good and we try from our level to minimize the negative impact to the environment. Our office is fully supported by solar power, have no single use plastic policy in office, our fleet of vehicles are on track to be replaced by electric vehicle, we have started this movement by adding two electric kona vehicles in our fleet and cherry on the cake is they are driven by our women drivers. With response to no single use plastic policy, we are trying to implement this in field and encourage our travelers as well. We have started this with the distribution of metal reusable water bottles to our guides, porters and drivers. 
What is one piece of advice that you would give travelers about traveling to your country?
I would suggest travelers to travel to Nepal with an open mind and embrace the uniqueness every journey/destination has to offer and be a part of the impact just by having the best time.
What is the best thing about your country?
There is not any specific thing about my country Nepal that I can pinpoint and say "This is the best thing." Every walk you take, every person you meet, every destination, the foods you find has something to offer bet it the satisfaction you get once you reach Everest Base camp or Annapurna base camp or just the smile of a small kid you receive during your stroll around the city or village, the Tharu cultural dance you see in Chitwan or the Tibetan meal you will have in the settlement camp.
In summary:
Nothing is as therapeutic as traveling, be it traveling to a new country or a new destination in your own country. Traveling to a new place will cover all the stress you have went through, throughout the year, every deadline you have to meet in work, it gives you energy to tolerate all and see life from a whole new perspective.