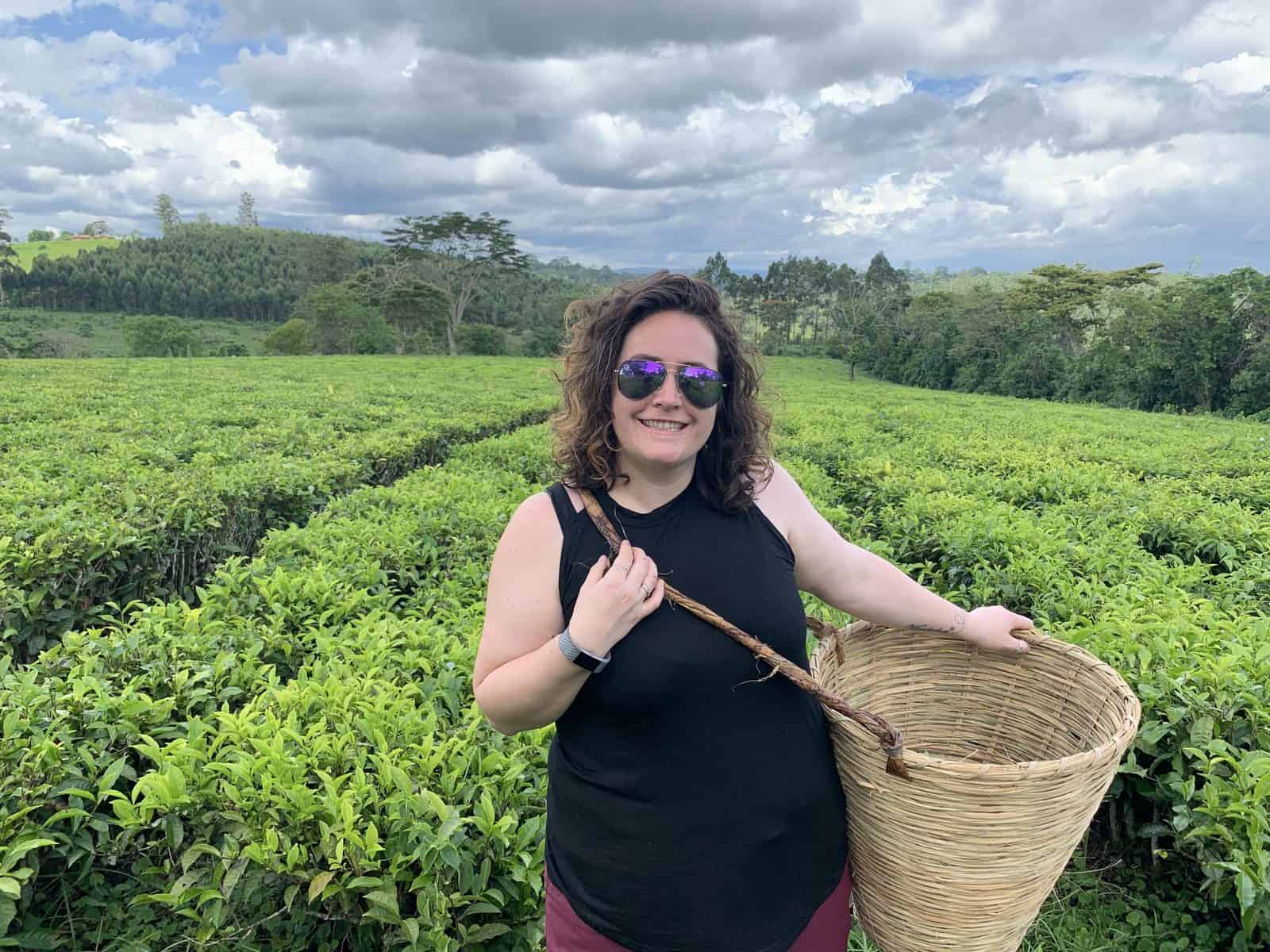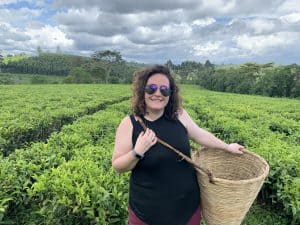 I recently took a life-changing vacation to Uganda – one that I will never forget – thanks to Off Season Adventures (OSA). Here's why my Uganda experience was the adventure of a lifetime and why OSA was my first choice to plan it. 
Why I decided to explore Africa 
I am passionate about travel, and exploring Africa has always been on my wish list. While I didn't give much thought as to where specifically I wanted to go, what I wanted from an African experience, or where I should start to plan a trip like this, I knew that connection with the local people was just as important to me as viewing the wildlife.  Fortunately, I was given the opportunity to visit Uganda with OSA, which had an impressively detailed itinerary that combined the best of wildlife experiences with local cultural interactions.
My concerns with traveling to Africa 
My prior traveling experience was confined to Europe and Mexico, so naturally I had some concerns and questions about traveling to a new continent. Is Uganda safe to travel to? Will I get sick if I eat the food? Do I need a visa? What about vaccinations? What should I pack? I probably had more questions than answers!  
Tanner C. Knorr was very receptive to my questions and helped put my mind at ease. He was thoughtful and listened to all my concerns.  He directed me to the proper place to get my visa and vaccinations, and suggested I review the "Travel Tips" page on the OSA website that contains tons of useful information. He even connected me with a woman who had recently been to Uganda who gave me packing and culturally appropriate clothing tips. I can't say enough about Tanner – he is detail-oriented, very thorough, and calmed any anxiety I had. I knew I had made the right choice to travel with OSA. 
Sustainable Tourism
I was raised to have respect for the environment, and to do everything possible to conserve the natural world and protect wildlife. Sustainability has always been important to me and was the focus of my college studies. In graduate school, I learned how important sustainability is in the tourism industry, and how foreign visitors could impact a country negatively, especially in developing nations. This made me realize I needed to be more responsible when making travel choices.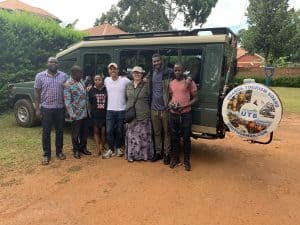 OSA intentionally designs trips for non-peak seasons to lessen the strain on local resources and provide tourism income to communities year-round. They also contribute to conservation efforts in their destinations by conserving forests and reserve 5% for their sister nonprofit, Second Look Worldwide for community building. I have witnessed how OSA practices what they preach. All the accommodations are locally owned and operated, their on-the-ground partners promote tourism in local communities without exploiting the people, and they visit wildlife areas that are focused on preserving natural habitat. Before the trip, I was confident I had made a responsible travel choice – and left knowing that was exactly the case. 
The Uganda Experience and Attractions 
As you can imagine the trip was amazing! We went gorilla and chimpanzee tracking, experienced the local culture, and I was even able to watch elephants in Queen Elizabeth National Park! I found myself overcome with emotion being so close to these magnificent animals in their natural habitats. Here is a taste of some of the Uganda experiences and attractions:
Gorilla tracking 
It is hard to put into words this amazing experience! Being so close to these wonderful creatures was overwhelming. 
We started the day with a beautiful drive to the top of Bwindi National Park, were debriefed by our very entertaining ranger guide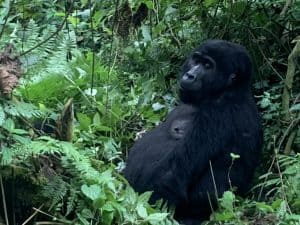 and headed out to see gorillas. My heart was beating so fast in anticipation of what was to come! 
The forest is said to be impenetrable and we soon learned it truly is!  Luckily, it didn't take us long to locate the gorillas. The trekking was rough and I took a few stumbles along the way, but it was well worth it.
Once we reached the gorillas I was in awe of how close we were able to get and yet they were unconcerned with our presence. Time spent with the gorillas is limited, but we were able to observe babies playing with their mothers and watched the younger, aggressive gorillas wrestle. A nerve-racking moment occurred when the massive silverback turned to make its way further into the forest with us directly in his path. Fortunately, he brushed by us without incident.  I left the jungle full of emotion after this unbelievable, truly life-changing experience.
Chimpanzee tracking 
This trip offered the opportunity to go chimp tracking. This was a different experience but no less amazing. Gorilla tracking involves communication between guides and rangers who have been tracking their movements to direct you. Chimp tracking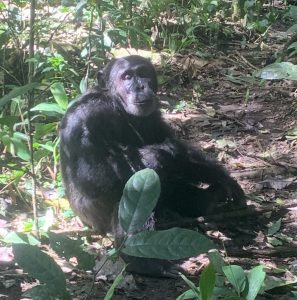 provides a different challenge because the rangers use their instinct to find them. 
As we made our way into the forest the guide would listen for the chimps. They are very fast so we were often running through the jungle to catch up. As we followed our ranger, we would suddenly hear the chimps shout in the distance. It was almost as if they knew we were looking for them and they were playing a game. 
Once we found them it was mesmerizing to be in their presence. They are quick and agile and have human-like features and movements. It's so apparent that we share 99% DNA with them.
Culture Day
My most memorable day was spent with the local people. We began at a local tea plantation with a farmer who showed us his daily routine, picked tea leaves and learned about the different types of Ugandan tea. 
After a hearty lunch of local cuisine, we visited a school where the community had gathered after church. We met teachers, students, farmers, leaders, and local entrepreneurs. Women involved in the village weaving co-op showed us how they make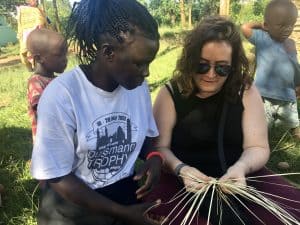 baskets and other handicrafts out of organic materials. Weaving was not my forte so I had to purchase my souvenirs! 
The day ended with a cultural music and dance performance. Each song was lively and told an interesting story. At the end they brought us up to participate in the dance, much to the enjoyment of the local children. I cherished this time as it gave me a glimpse into the daily lives of rural Ugandans. 
Many African tours focus on wildlife viewing, but it is the interaction with the local community that makes a trip special and unique. I can't imagine visiting Africa without meeting its beautiful and welcoming people.
How to plan your own Uganda Adventure 
Are you looking to experience your own Uganda adventure like I did? 
My travel experience to Uganda with Off Season Adventures was awesome! OSA understands what you are looking for in an adventure, and is able to design a journey you will remember the rest of your life.  I am now inspired to experience more of what Africa has to offer, and will definitely go back as an OSA traveler. Without hesitation, I give OSA my highest recommendation!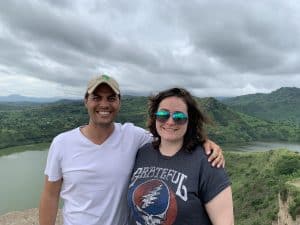 Lindsay loved the experience so much, she's now part of the team! Welcome, Lindsay as our Head of Operations.